I have always struggled with secret Santa or secret friends' gifts. I get it, people like it, it can be fun and it can be quite a show. However… I suck at buying low-budget gifts for people, or worse, I suck at buying gifts in general!
It is no secret to my family and friends that I like to know what they want, so I can just buy it without much stress. That is not the point of secret Santa though. It is all in good fun, but to me, it really is a strenuous task, that is, it was! I made myself a list of perfect gifts for these occasions. Now, I do not even have to think about it. I just get something from my little list!
If you are like me, do not worry. I will be sharing my secret list with you all. Let's take a look at it, shall we?
Beauty boxes
This one is a classic that I always get from my aunt every Christmas. She does not know what to get me, so she always gives me one of these skin treatments kits. Do you know what I am talking about? Those boxes come with shampoo, massage oils, skin creams, body wash and more.
A perfect gift that can be offered to anyone! You just need to choose between the male or female version, since the products can vary quite a bit. And if you are worried about the budget, don't be! There are several sets available that you can customize according to your budget. This is my first choice when I know I have to deal with a secret Santa.
Mugs
Yup, a mug! I know it does not feel original or funny, but let's be honest. Everyone needs a mug. It is useful, you know it won't get trashed, people will use. And the main complaint is the lack of originality, right? No more though.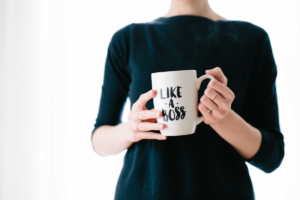 There are several companies that focus on creating funny and customized mugs. You can even upload a picture of yours and they will print it on a mug of your choosing. The possibilities are endless. You can buy a unique or high-tech mug or a dorky, customized mug for your friend. A mug with a funny picture and a cool catchphrase might just be the star of the party.
Candles
Very similar to the mugs, the candle business has been rapidly growing by investing in customized items. You can create your own scent mix and order it from several websites, you can even choose the shape of the candle. Again, the possibilities are endless.
If you are not feeling that creative, well, there are hundreds and hundreds of unique and exotic scents that we have no clue about. When I'm feeling risky, I get one of those and hope for the best.
Bath bombs
It might no be the manliest gift for guys, but who does not like a bath bomb? They are so cool! Everyone deserves to relax from time to time, and is there anything better than soaking in the tub with a ton of fragrant foam? Honestly, can't think of anything else!
This type of baths sound relaxing but we rarely take the plunge and prepare such bath, which is kind of silly, really. But if you gift a bath bomb to someone, it is an extra reason to go all out. So, you will be offering a cool experience and helping your friends or family relax! Two in one. Oh, and if this is a Secret Santa gift, there is no better time to soak in the bath. Winters have been so cold lately.
Portable heater or fans
A couple years back, in another round of Secret Santa, I received a portable mini fan, one of those that you connect to your PC via USB. Yes, they look silly, no question, but that little thing saved my life for countless summers. I worked at a place that had no ventilation or AC and this little thing helped me survive some hot, hot summers.
There are also portable heaters that can be a world changer for your friends and family. You do not have to offer silly gifts only in these Secret Santa or Friends.
Final thoughts
These items are highly customizable, super useful and impossible to go wrong with. On top of that, they can fit on any budget. You won't be struggling for ideas now. Happy gifting!