Email marketing is among the most effective ways of digital marketing. Unlike other methods, it builds a personal connection with people who support your business. And developers are constantly developing new tools to make email marketing better every day. 
According to a survey, marketing professionals believe that using these advanced tools improves efficiency by almost two-thirds. Therefore, to maximize your productivity and ROI rate, choosing the right tool is key. We reviewed some of the best email marketing tools and selected five of our favorites to provide you with the best options to help you grow your business.
1. MailChimp
It is a web-based tool that enables access from most web browsers. Thus, you won't need to download any software. 

It has both a free and premium plan. The free version provides basic email marketing features such as email creation and scheduling. Whenever a subscriber triggers an activity, the scheduling feature automatically sends a targeted email.

In contrast, the paid version gives access to more advanced features like A/B testing, showing how a single message written differently can get different results. This comparison helps you learn which Email gets more responses.

It keeps an up-to-date targeted audiences list and enables you to track audience engagement with consistent communication.

If you are new and don't have any contacts, the software automatically generates signups, which you can post on different social media websites and start collecting new contacts.

It also lets you craft different campaigns, be it a message you share through Email, ads, or other channels. And on the dashboard, you can see how many people saw your campaign and track how many opens and clicks it received. 

If you integrate your Google Analytics and MailChimp accounts, you will obtain more detailed reporting. 
2. HubSpot 
What makes HubSpot prominent is its ease of use. It comes with a drag-and-drop visual editor that makes it incredibly simple to use without any special set of skills required. It has several pre-made templates. So, you can design an entire campaign all by yourself, without having to be an IT expert.

You can even make your templates according to your company objectives.

It is both desktop and mobile-friendly. And makes your email campaigns appear professional.

It lets you send scheduled emails worldwide irrespective of the time zone differences. You can schedule your email marketing campaigns, and the emails deliver to subscribers at the correct time no matter where they live.

The database stores the subscriber's general information, which lets you know your audience's interests. So, you can send them personalized content. 

You can also attach different attachments and provide links, including call-to-action. 

You can run A/B tests by testing two versions of a page at the same URL and see which performs better. 
3. Omniscient
Omniscient is probably one of the most expensive tools available in the market. What makes it so expensive is the variety of different marketing channels it uses, from Email, to SMS, to Facebook Custom Audiences, to Google Customer Match, Web Push Notification, Facebook Messenger and WhatsApp.

It also provides a free version capable enough of supporting small and medium business outreach efforts. The free version only uses emails. 

It automates email delivery by using behavioral triggers and allows you to time your communications based on customer conveniences, like at a particular time or day.

It has a Product Picker feature that enables optimized email performance by allowing you to include scratch cards, discount coupons, and gift boxes.
4. Moonsend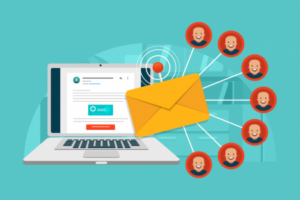 It is one of the cheapest tools in the market but robust enough to meet the needs of small businesses. 

It provides phone support to customize templates.

It features three plans to let you choose according to your needs:
Free Forever 

Pro Plan, and

Enterprise Plan 
It also allows you to purchase credits based on the number of emails you send (including unlimited subscriber names) when using the service. You can send 1,000 emails for $1, which is the same as 1,000 credits. 
5. Drip
Drip is the best-automated marketing software in the market and especially if you have a variety of audiences. It allows you to automate almost any type of trigger, whether someone opens an email, navigates to a website, or adds a tag.

It integrates with just about any other marketing software, including surveys, onsite retargeting, sending text messages, and even Facebook ads. 

For each Email and automation strategy, the revenue dashboard shows detailed revenue and engagement statistics. So, you can see what drives your performance.

It customizes your communications by adding products, recommended products, top-sellers, abandoned cart items, dynamic discounts, and much more.