You have surely needed help with locating a mobile device before, and the following best phone tracking software will make this easy for you. Use the software to find a stolen or lost device or to keep an eye on your kids even when they're away. The best phone tracking software also lets you see social media messages, internet searches, call history, and more, so don't hesitate to try any of the apps listed below.
1. Google Find My Device
Use your Android phone to track any other Android advice for free with Google Find My Device. This app also gives you the possibility to set a password so that your data would be secured. Its features include monitoring a tablet, phone, or a smartwatch, erase or lock a device, Google Maps support, and even indoor maps for malls, airports, and large shopping centers. It's compatible with Android version 4.1. as well as later versions. All in all, this is a very reliable phone tracker, but you can track devices only while online. It's not possible to track a device only with the GPS location option.
2. Glympse
Another best phone tracking software that you can use for free to track your friends or family members is Glympse. You can download it on IOS and Android devices, and it will display the location of users in real-time. Besides location tracking, its features include the option to create a Glympse group and public tags for community events and sharing bike routes. The app has a dynamic map, and it's compatible with iOS 9.0 and Android 4.0 as well as later versions of iOS and Android devices. This is a very highly rated app both on the Apple store and Google Play, but there have been complaints that you can't see the location of a tag on Google Maps.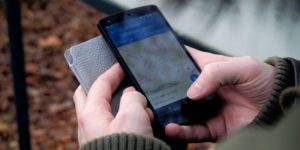 3. Geo Tracker
This is a pretty good GPS tracker that's especially useful to those who like sports and traveling. This is because, besides being able to see the location on the map, you'll also see statistics such as maximum speed, slope, altitude, track length, and more. The app is different from other best phone tracking software because it supports Yandex maps, not just Google maps. Yandex is especially useful if you're going to Russia since it will display a lot more detailed information about the region. The app features a visual data display and the trackers and monitors I mentioned earlier. It is compatible with Android versions from 4.1. to later ones. The app works well when it comes to location tracking, but there have been complaints that the app stops working when the phone screen goes off. Changing some settings regarding background recording should fix this though, and the app is entirely free.
4. Phone Tracker By Number
Another free GPS tracker is Phone Tracker By Number, which lets you monitor as many users as you want. You'll be able to see the complete location history, and the app will display the precise location on the map. It also gives you navigational help to go to the location of the phone if that's what you want. This is one of the best phone tracking software that you can use for free, and it's very popular due to its accurate location display and efficient battery usage. Its features include instant notifications and real-time location updates. The app is compatible with iOS phones from 11.0 to later versions.
5. Snoopza
What makes this app different and one of the best phone tracking software is that it allows tracking of social media messages, and lets you monitor calls. You can also track YouTube usage history and general Internet search history. The app is compatible with Android versions from 4.0 to later ones, and, of course, it has a geolocation feature. It's a great parental control software, so it's perfect for you if you need it to track your kid's phones. You can choose from the free and paid version, and you'll only find basic phone tracking features in the free version. This version also supports Geo-location, internet history, SMS manager, and call monitoring. If you opt for a paid version though, you'll find advanced features like stealth mode, call record, screenshots, social media messages, and more.
You don't ever have to worry about where someone is because everyone carries their phones with them these days. Use any of the best phone tracking software from the list, and you'll locate your kid, friend, family member, partner, or co-worker in no time. Don't forget that you can use them to locate your own phone as well, especially if you happen to lose it or it gets stolen.